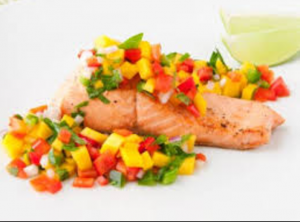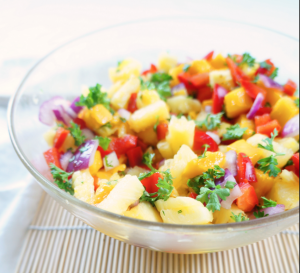 Fruit Salsa seems to be the new rage among taco lovers alike, or perhaps it was always liked and I'm coming out of my taco shell… ready to experience the fruity side of the salsa world!  So my first question is and maybe some of yours as well, when is it "appropriate" to use fruit salsas? Think Chicken & Fish, and by itself, like a Mexican fruit salad!
Fish- With fish pairing Mango salsa or a fruit similar to that with a bit of cilantro, lime and chopped red onion adds a pizazz to your fish taco and keeps it refreshing and healthy.  Adding mint in place of cilantro adds a nice combination of flavors and can help jazz it up a bit!
Chicken-  Chicken and pineapple come to mind when I think Fruit salsa and poultry.  Pineapple like that found paired with teriyaki chicken is a great citrus addition to the often bland taste of a chicken breast.  Add some habaneros or other spicy pepper of your choice to give it a kick that's spares with the tang of the pineapple
Side Dish- For my fruit lovers eat it BY ITSELF!!! It is delicious as a side to any type of taco.  Whether to cleanse your palette when switching between different taco meats, or simply to add a healthful side to your tacos, quesadillas etc. fruit salsa is where it's at.  While it doesn't tend to pair all that well with beef and other heartier meats the rule in a taco lovers life is there are no rules when it comes to tacos!  
There are so many new and delicious fruit salsa recipes to try that can be found anywhere on line.  If you are in the San Diego area and have an urge for tacos stop into our Taco shop, SD Taco Co. and try one of our daily delicious fruit salsas made from scratch.  At the beach?  Make sure to look for our trusty Food Truck, delivering fresh tacos on the beach!  Adding a fruit salsa to your lunch can give you a boost of hydration while playing in the sun.  We as well always encourage you to try and make your own creations.  We also like to hear of new recipes so be sure to drop yours in one of our drop boxes by the salsa bar!  Ole'…Fruit Salsa.