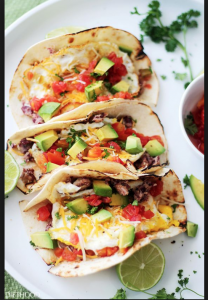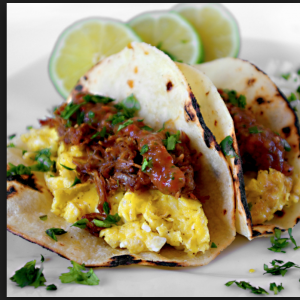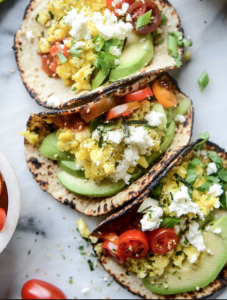 Tacos and more tacos, we can't ever get sick of tacos!  This has to be a true statement with all the different types of tacos, and taco styles out there, including the breakfast kind.  You heard correct!  Bring in the breakfast tacos!  A simple and delicious way to incorporate tacos into breakfast time. Here at Sd Taco Co. we are always looking for new ways to bring the great taco taste to our consumers in different ways.  With our new and improved food truck we don't want to wait until lunch time to start distributing our delicious tacos to hungry people.  The concept of breakfast tacos can definitely not be accredited to us, but we can be credited for making our rockin own version of this new breakfast delicacy!
We are always looking for feedback or suggestions so if you have any ideas on a awesome breakfast taco or what added ingredient may better complement the tacos we offer please be sure to email us on our contact us page.  However we are pretty confident that you will be pretty impressed with the delicious combinations we have come up with for all you taco lovers.  Not only are they spectacular but they also cater to the taste buds of many ranging from vegan, to vegetarians, and to all you meat lovers out there. Below are a few of our creations for you to drool over, we do suggest though coming out to our location or stopping by our taco truck next time we are in your area so you can taste heaven yourself, and all before 11am!
Monday Morning- Feeling a little scrambled?  We got you!  Filled with scrambled eggs a blend of shredded mozzarella and cheddar cheese, guacamole and red or green salsa this simple delight is sure to start your week off right.  For the meat lovers add bacon or chorizo for a little protein and hardiness.
Papas & Chorizo- Filled with "papas" or Mexican style potatoes that are mixed with chorizo, pico de gallo, and red or green salsa.  This is a chorizo lovers favorite!  With your choice of corn or flour tortilla you are able to customize it to your exact preference
Veggie Lover's Delight- This hippie inspired breakfast taco boasts organic mushrooms, peppers, and onions mixed with scrambled eggs/or tofu scramble, guacamole, pepper jack cheese for a little spice, and green or red salsa.  Also served on your choice of a corn or flour tortilla.  Heck you want to be gluten free, we got those tortillas as well.
Like I said these are just a few of our delicious new breakfast fare.  While we do have pre designed tacos to choose from remember to that we are pretty flexible and would love to have you customize your own breakfast tacos.  Pick from a list of our fresh and organic when available ingredients and we are sure to make a breakfast taco to your heart's content.  After all the great thing about tacos is that they were made to be customized.  So don't wait for taco tuesday or even until noon time.  Try our new breakfast tacos and start your day off satisfied, healthy, and full of taco love!!